Apple iPhone 4S end-users are now complaining about an estimate of 10-percent (10%) drop of their phone's battery life every hour even though it is on standby mode.  I totally agree if you would say that iPhone 4S is so cool;  it awes me just thinking of the bundled iOS (iOS 5), the processor, and of course – Siri – the personal humble assistant application that comes with the phone. However, with a powerful phone like this it is more likely that it hungers for more power. And I already suspect this from the start but I still want to believed that Apple already tested this before they provided the official battery specs. Apparently, since iPhone 4S launching there had been complains coming out from Apple's official forum site. And almost all of them were telling the same problem – iPhone 4S battery life problem.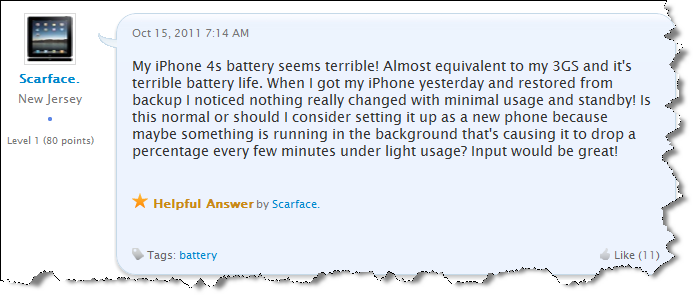 So before you go and decide to kick-out or throw your phone in exchange of Apple's iPhone 4S, think again as you might end up like these frustrated iPhone 4S users.
Attempts to resolve the battery life of iPhone 4S:
Although it's not yet confirmed, there had been attempts to lessen the drastic drop of their iPhone 4S battery life and have worked for some. They said that there was a bug introduced in iOS5 which causes the "Setting Time Zone" constantly running and consuming the battery. They switched this feature off and it was said that it improved their battery life. "Setting Time Zone" is found under Settings -> General -> Date & Time then toggle "Set Automatically" to "Off.".