Good news to all SMART and SUN post paid and pre-paid subscribers because the power of these both networks can now be in your hands.  SMART tweeted and even post on their official Facebook page their latest limited Christmas edition subscription plan – SMARTSUN Dual Plan 549 – giving you the power to connect between these two network carriers.  For those who are still confused and wondering why and how did these two competitive network carriers merged together just to give you these promo. Well it's quite simple, it's because SMART which is owned by PLDT already acquired Digitel Telecommunications Philippines which happens to be the owner of  SUN Cellular.  And now, they came up with this limited Christmas edition promo plan for all their end-subscribers for only PhP 549.00.  And what's more likely about this promo is they're giving out FREE Nokia C2-03 handsets along with this subscription – of course it should be a dual-SIM powered handset since I believed that you'll be using two SIM packages simultaneously under this subscription plan.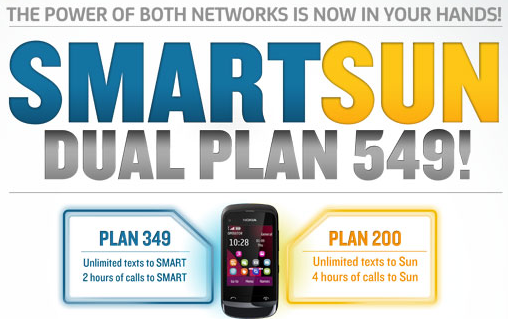 Unfortunately, neither of the two carriers disclosed the details and mechanics of this promo called  SMARTSUN Dual Plan 549 and I am still waiting for SMART Care Center to provide me more details about this promo.  However, by judging the poster SMART posted on Twitter and Facebook it looks like that SMART will be combining two post-paid subscription plans which are SMART's PLAN 349 (Unlimited SMS/texts and 2 hours of voice calls to SMART network) and SUN Cellular's PLAN 200 (Unlimited SMS/texts and 4 hours of voice calls to SUN network).  Not bad.  It's economical and practical – a real money-saver deal.
If you're looking for a not-so-fancy mobile and most of your contacts are SMART and/or SUN users then I would definitely recommend this promo to you otherwise just be happy for those who want it.