Battle City Android game app – I finally found one of the old-time favorite games back in the late 80's and early 90's called Battle City of NAMCO. Originally, I was searching for Super Mario Brother's Android game app but my search led me to this cool Battle City Android game app called Tank 1990. So from Google Play, I downloaded the game to my Samsung Galaxy S II smartphone and gave it a plunge. I would like to share with you my experiences and review about the game. As for starters, I would like to believe that this game is promising and the author of Tank 1990 Battle City Android game app will continue to develop and improve this game. One of the best thing you will love about this game is that it's FREE.
Tank 1990 Battle City Android Game App Review
Tank 1990 is the rebirth of the game Battle City developed by NAMCO and now redeveloped by Hoang Anh for Android platforms.  The Battle City Android game app Tank 1990 is one of the top trending FREE app now from Google Play. Although the game is still on BETA version, game players like me can now start to enjoy the 30 stages of version 2.0. Yes, this Battle City Android game app only have 30 stages as of the moment. There are 3 levels – EASY, NORMAL, and HARD. And if you are not used to this game I think you will struggle really hard to surpass Stage 01.
The Menu
The Battle City Android game app Menu is not so hard to navigate. As you can see from the images above, there's no special buttons to select before you can play the game. You just need to select one and enjoy playing Tank 1990. But if you ask me like the original game, this is best played with a partner. Yes, you can just turn on or enable your device' Bluetooth and then find your friend and VIOLA! Enjoy beating and destroying those enemy tanks on each stages.
The Controls
Don't expect the same feel as with the original controllers of your Nintendo game console. The controller is embedded in the user-interface. So you need to familiarize yourself with the controllers of Battle City Android game app.
The Stages
Currently with Tank 1990 Battle City Android game app, there are only 30 stages. Hopefully the author can add more stages like with the original Battle City.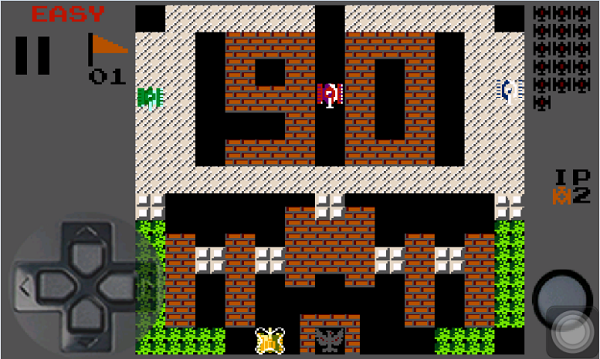 Tank 1990 Battle City Android Game App Overall Verdict
The game Tank 1990 Battle City Android game app is really cool and quite addictive. However, it looks like the game is still incomplete with 30 stages on the latest version released by the author. Like many game players who have downloaded the game app, they are also expecting for new and more stages in the next updates – HOPEFULLY.
I hope you have a steady hands and fast eyes – because as you can see in the image above (EASY mode Stage 01), it doesn't look easy, isn't it? There are so many blockers and obstacles before you can eliminate all the enemy battle tanks and complete the stage.
To download Tank 1990 Battle City Android game app, you can go to Google Play.
UPDATE: The Tank 1990 seems no longer available in Google Play, so here's Google Play's Tank collection games you may wanted to check –
Tank Games for Android
.