With the rapid advancement of technology, homeowners can seamlessly secure their residing place inexpensively with much ease. From surveillance cameras to various technical gadgets there are many modes that can be applied to secure a home. In the following guide, we will briefly discuss the best possible options for securing residences.
The basics of home security system incorporate the following:
Surveillance – Keeping a close look at the happenings outside as well as inside your home
Sensors – Getting to know if there occurs a movement, smoke, fire or water leakage in your home
Locks – Applying physical barriers to your home doors and windows
To successfully develop a safe and secure security system the first step is to determine the exact needs. Once you get to know the requirements you can easily choose the correct combination of sensors, locks as well as surveillance to finally achieve a perfect security system for your home. Some of the important rules are as follows:-
For a large area with many access points, you must try an expandable security kit
For a smaller area, you can opt for a portable device that serves all the requirements
And finally, if your apartment is a mediocre one in size then you can go for a security system where you can customize your own security system.
Pick a Surveillance System
Security cameras play an important role in a home security system. They help to record footage that gives an in-depth insight of the happenings of your house. This not just makes it easier for you to recover your lost items but prevents robbery or other mis-happenings in the very first place. These cameras are internet connected and allow one to view footage while relaxing back at one place as and when desired.
Let us get to know the two common security camera systems that you can consider to set up: –
Wireless Cameras- One of the eased out surveillance systems which can be easily installed. With around four minimum bullet kind cameras hooked to a digital recorder, you get to experience a supreme quality of exterior as well as interior monitoring for quite a less amount as compared to the professional ones available.
You can choose a waterproof camera with night version as well as an expanded range (within 60 to 150 feet). It is essential to also own a DVR such that there is enough space to store all the footage that the camera captures. Around one TB is enough for 4 cameras. You can also opt for expandability for your camera system. You should also opt for software that allows remote viewing such that you can have alerts and live feeds seeping in your devices.
Wi-Fi Cameras- These cameras are connected to the internet via Wi-Fi and are extremely easy to install. These can just be plugged in to provide 24 x 7 footage.
Pick the Correct Sensors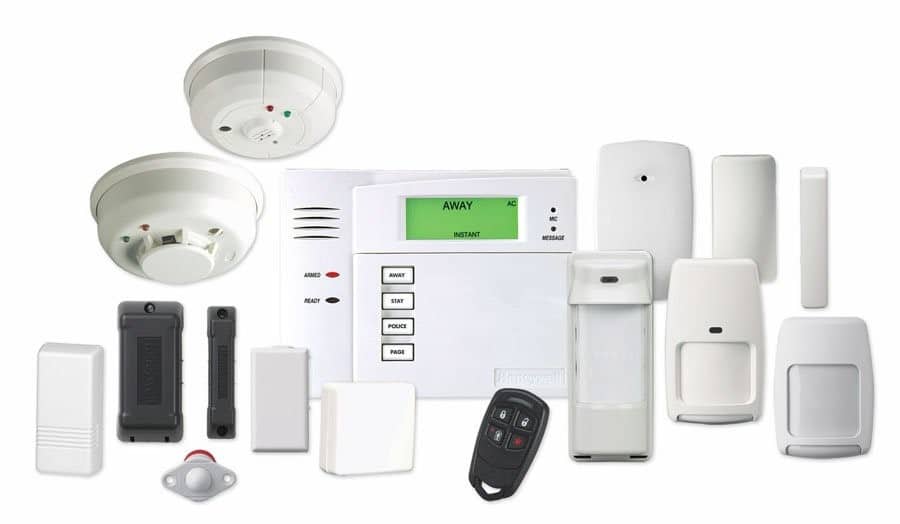 Sensors allow you to extend your security system to all the various corners of your house. Various kinds of sensors that you can pick from are as follows:-
Motion Sensors – These sensors are slim and simple devices that can be attached to doors as well as windows. They emit loud noise whenever tried to open.
Environmental sensors – These detectors include smoke as well as carbon monoxide detectors which are extremely useful in barring unfortunate instances.
Motion Detectors – These detectors detect the movement of a person or animal and keep your home and surroundings safe and secure.
Smart lights – Smart lights are lights that go on and off from time to time giving an appearance that the owners are home even if they are not. A house that appears to be occupied stays far safer than one that seems empty.
Smart motion detectors and sensors – Smart detectors are connected to the internet via Wi-Fi and keep the owner informed by sending frequent alerts to handheld devices such as cellular phones and laptops.
Choose the Appropriate Locks
Electronic locks are one of the best options to keep your homes safe and secure to the core. Some of the smart securing options are listed below:-
Smart garage operators – Garage doors are connected to the internet which allows you to open as well as close your garage doors from any place whether far or near. Therefore you get an easy access to the door of your garage.
Smart Locks – Smart locks do not require a physical key to open a door. Instead, they can be operated using a cellular phone via Bluetooth.
Smart Doorbells – Smart doorbells are the kind of bells that sends alerts to your Smartphone whenever the door of your home is rung. You also get to view the video of the person on the door whether you are at home or away.
Keypad – Keypads are the best way to keep you away from the hassles of using keys time and again. Keypads are used to enter your desired pass codes to unlock doors. It can be shared with the family members and there stays no requirement to get various copies of a single key.
Conclusion
Jotted above are some excellent options available to secure your home. You must explore and analyze all the mentioned options before picking the best one to suit your needs as only you know your apartment best.
---
About the Author
I am William Wilson, founder of thesecuritycamera.org. I am a technology engineer by passion and an experienced travel and adventure writer. Feel free to explore my website. You will find a lot of useful information concerning home security.