Most of the time people have this tendency to become so lazy especially with so many gadgets and new technologies available out there making our lives easier.  But why should we exert so much effort when the tools are already there for us to utilize?  Like QR codes, where we can send secret messages, share URL or websites with our friends, send SMS and phone numbers with other people in a barcode form.
Quick Response or QR code is not a new technology but it's now being used widely especially with almost all the new unit releases of phones in the mobile industry – whether it's iPhone, iPad, Android mobile gadgets, Nokia, Blackberry or anything alike for as long as it has cameras on it and of course a QR reader. This was first used as two-dimensional barcode for a motor company named Toyota which was also the birthplace of QR codes in 1994. Before, QR codes were widely used in countries like Japan and Korea and this was not immediately adopted by western countries until the phenomenon boom of mobile phones with access over the Internet.
You can utilize this QR code not only to personalize your website but also gain additional good impression with Google. Why is that? First, you can just create your own personalized QR code that is equivalent to the link or URL of your website; post it anywhere, a good venue is on your social networking photo album and when other people sees it they'll be curious and scan it – viola! They will be redirected to your homepage. Another advantage is you can just save it on your phone and just ask your friend to scan it and save yourself from typing it all over again. With this method, you're giving your website or blog page its own unique identity. Another advantage of QR codes for your website is, you can add and include QR codes for each posts or articles and when Google or other search engines crawls your website, it will index and cache all these new images from your website – good SEO technique because it captures new and unique images from your website.
So how to generate QR codes? How to decode QR codes? This is not hard for those mobile users with pre-installed barcode scanners – especially those end-users who own the latest handheld phones. But if you want to create or generate your own personalize, there's one website that offers this service for free. The company is called KAYWA QR-Code, a website who offers free QR Generator for URL, text, phone number and SMS. They also offer their visitors to download their QR decoder (for supported phones only). To check the supported phones of KAYWA Reader, click here.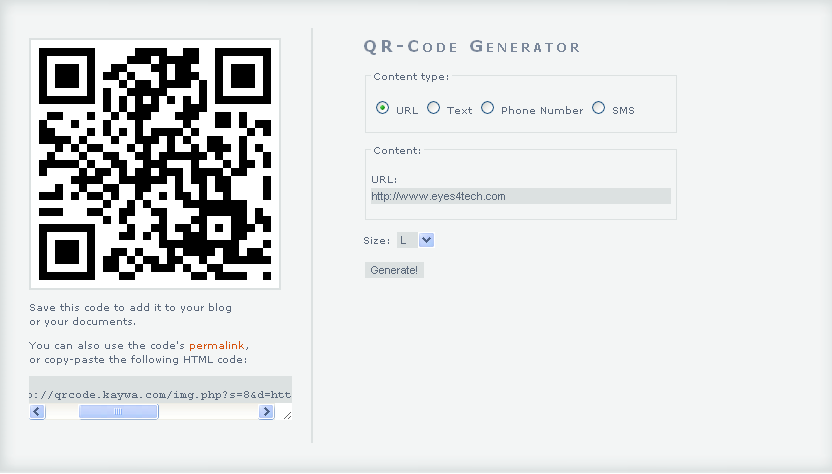 Now, if you wanted to view the hidden message behind a QR code but you don't have the means to do that because your phone is not capable of decoding barcodes, do not worry because there's an online tool as well to decode it. The website is call ZXing Decoder Online, a website that lets you decode 1D or even 2D barcodes.