Samsung Galaxy S II GT-I9100 – a perfect gift for my girlfriend on her birthday.  I bought her first Android-based smartphone last week and since she is not as tech geek as me I took the liberty to explore Sammy(this is how we call Samsung smartphones or you can call it SAM) first and install some Android applications that she might need – especially the games she wanted to play like Fruit Ninja.  I also had the opportunity to use and explore Samsung Galaxy S II's camera because we celebrated her birthday in the wonderful island of Boracay (Caticlan, Aklan).  I will now try to give you a quick review of this wonderful smartphone to help you decide if you want to buy your own Sammy before the end of this year (especially with your Christmas bonus coming I am sure you can afford it). (Click images to zoom)
How much is Samsung Galaxy S II – at least a range?
Let's talk about the price first.  If you roam around the mall and ask for the price on each mobile phone shop like what I did, the price of Samsung Galaxy S II will range from PhP 25,000.00 – PhP 28,000.00 (this price is on a cash basis payment).  Now if you want to avail it using your credit card, let's say you opted to pay it within 12 months (zero interest), Samsung Galaxy S II's price will now range from PhP 32,000.00 – PhP 33,000.00 and you have to pay your monthly credit card with a minimum of PhP 2,800.00 – PhP 3,000.00.  I am not really sure how did they come up with that computation. 🙁
Samsung Galaxy S II Specifications
I won't detail out each and every technical specification of Samsung Galaxy S II, rather I will provide you the highlights and what is it in Samsung Galaxy S II that will make you fall in love with it.  Let us talk first about its dimensions, Samsung Galaxy S II size is 125.3mm x 66.1mm x 8.5mm (thinner than an iPhone 4 with 58.6mm) and when I held the phone on my palm I noticed that it's lighter than a regular iPhone 4. Samsung Galaxy S II weighs only 116grams compared to iPhone 4 which weighs 137grams; and it sports a Super AMOLED capacitive 4.3 inches with 480 x 800 pixels touchscreen Gorilla diplay with 16M colors powered by TouchWiz UI v4.0.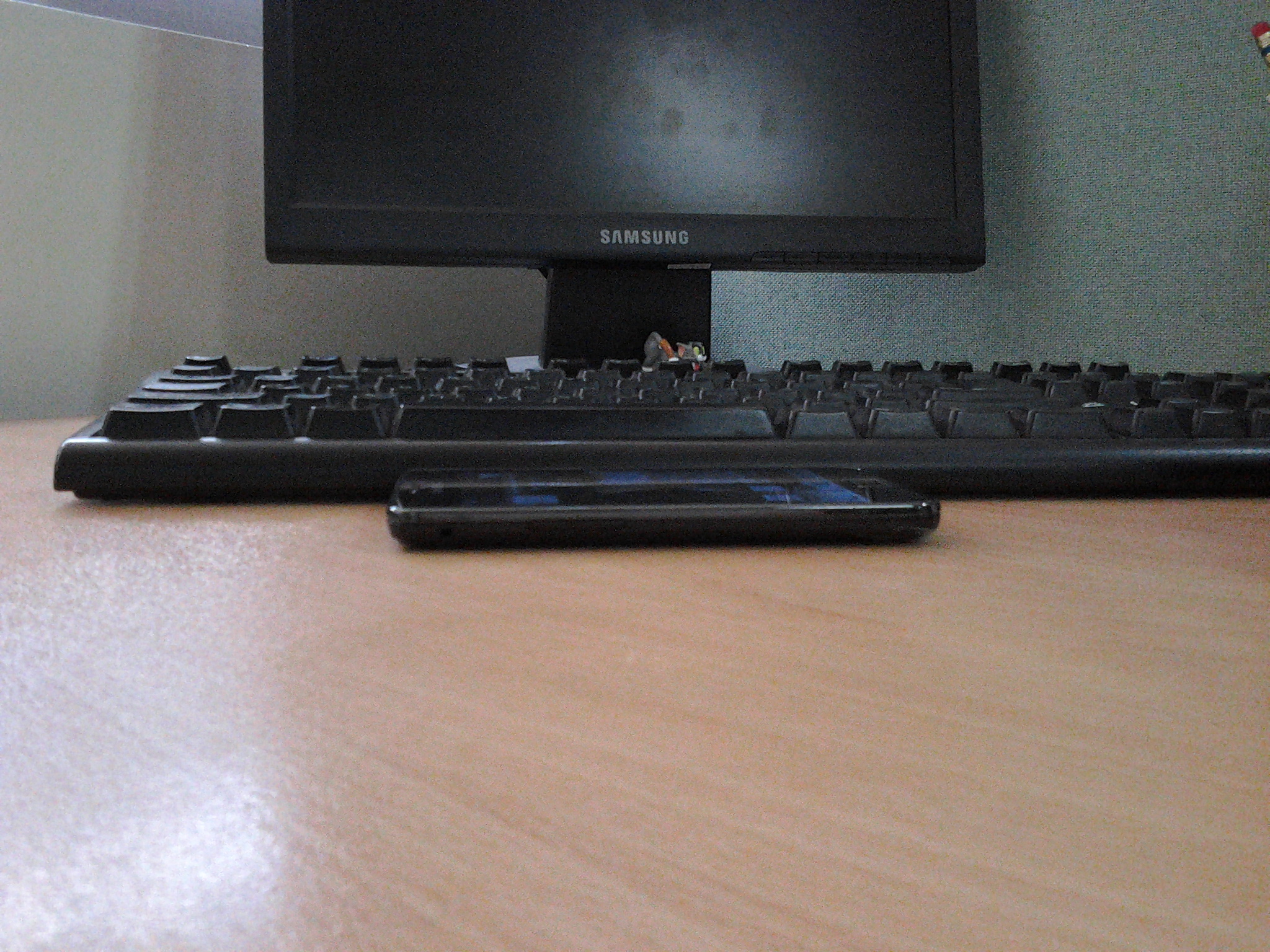 Now the camera of Samsung Galaxy S II is an 8MP (3264 x 2448 pixels) autofocus with LED flash at the back and another 2MP camera on the front – which will make it easier for you during video chatting.  One of the best part feature of Samsung Galaxy S II camera is its Geo-tagging (where it will add details to your photos where it was taken), blink detection which will show you if your target blinked and will ask you if you still want to save it or discard the shot also a smile detection.  But there's another one feature that I liked about this smartphone – it's the panoramic photo feature.  Once you use the Panorama shot, you'll get 8 frames with one shot – I have an example of it below but bear with the quality because the weather is not good in Boracay last week.
Of course, it also captures video and I should say it's very clear and below is an example when I took a video of Cebu Pacific's Airbus propeller on our way to Caticlan Airport. Again, my apologies on the video orientation, just check how clear the video is. 🙂
Some more details you might want to know…
Here are some more little details and specifications of Samsung Galaxy S II. This smartphone is one of the popular and powerful Google Android phone which sports Android OS v2.3 (Gingerbread). And to be more specific when I bought this smartphone it sports Android 2.3.3 Kernel Version 2.6.35.7-I9100XWKF1-CL265340 build number Gingerbread.XWKF1. And before I forget, Samsung Galaxy S II's CPU is a dual-core 1.2GHz ARM Cortex-A9 processor.
Samsung Galaxy S II memory consists of 2GB Internal Memory, 12GB USB memory and 1GB RAM. But you can still add more memory by adding a microSD memory card up to 32GB.
Known Issues of Samsung Galaxy S II
During my first week, I see some small issues with Samsung Galaxy S II. The first thing I noticed is its battery life – it couldn't last for a whole 24 hours specially when I am playing with some HD games. I had to optimize Samsung Galaxy S II and turned-off some of the features such as its GPS and Packet data, WiFi, and some other features that I don't need and not applicable here in the Philippines. I also turned on the Auto Brightness and Power Saving Mode which is also included with Samsung Galaxy S II – it did really help. Well, I also downloaded an application to manage the running applications to save the battery life – that will be my next post. Too much application running in the background and if you let your display's brightness maximized all through out will surely drain your battery.
Another known issue, is Samsung Galaxy S II heating problem. You won't notice this on a regular usage of the phone but if you play with HD games for quite some time you'd feel the back of your phone heating up and for some they can't bear the heat. This is a known issue of Samsung Galaxy S II and this is possibly because of the smartphone's dual-core 1.2GHz ARM Cortex-A9 processor and display's brightness. There are tips on how to resolve this heating problem and one of them is to update the firmware to handle the application better. Also, by adjusting the display's brightness will help and one of the tips I learned was to use a back cover case with holes to give more ventilation to the smartphone's back. For now I updated our Samsung Galaxy S II's firmware – and I will monitor it in a few more days. I will also post another article on how you can update your Samsung Galaxy S II's firmware. Here's a screenshot of our Samsung Galaxy S II's firmware.
I hope I had given you a little insights about Samsung Galaxy S II and for more and complete specifications check it from Samsung Galaxy S II official website.
Update:
I visited Samsung mobile shop again yesterday at Cyberzone SM North Edsa and saw their latest promo for Samsung Galaxy S II for HSBC credit card holders. You can now avail it if you have a HSBC credit card and just pay PhP 897.00 per month for 36 months.