Last Thursday, from London we have all witnessed as Samsung unveiled their latest addition to their Samsung Galaxy S family and successor of Galaxy S II – meet the new Samsung Galaxy S III. We have been told that this will set foot first in Europe on May 29 but Samsung promised that they will be distributing their new flagship Android smartphone to all 300 major network carriers globally, yet gradually. Shipping of this latest Android smartphone will be gradually distributed and we'll see them in the coming months.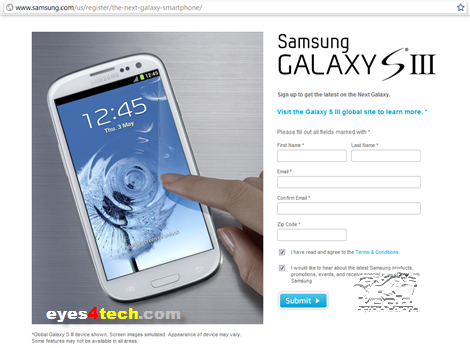 Well, it looks like that Samsung is doing their full efforts in terms of distributing their latest flagship Android smartphone. After Europe, it's been spotted from the company's official website in the U.S. that they have put up a dedicated page for Samsung Galaxy S III. The webpage that Samsung U.S. added on their website is a registration page where you need to fill-up and be the first one to know once the Samsung Galaxy S III is already available on the registrant's region.  Moreover, it looks like that almost all major wireless network carrier players in the U.S. will be hosting this new Android smartphone.  Because on that same page, there's a drop-down menu asking the registrant which carrier does he prefer. Choices are as follows –
AT&T
C Spire Wireless
MetroPCS
Sprint
T-Mobile
U.S. Cellular
Verizon Wireless
It's still inconclusive to say whether these list will surely distribute Samsung Galaxy S III in the U.S. but personally, why would they put it there in the first place? Knowing that the tech-consumers might get disappointed if they removed their favorite wireless network provider.
But one thing is certain about this, the new Samsung Galaxy S III will soon hit the U.S.