Earlier this month, it was announced that the Temple Run for Android will be released on 27th of March and in a few hours from now.  After so many months of requests from almost all of the Android users who have seen this amazing and addictive game in iOS devices like iPad and iPhone, it will now set foot into Android devices – smartphones and slated tablet devices.  Imangi Studios, the company that created this game on iOS devices confirmed on Twitter last 07th of March that this time the Android version of Temple run is for real.
Soon enough, I am sure that my Facebook wall will be flooded by another viral game when all of the Android smartphone and tablet users downloaded this game on their devices and post their scores on Facebook or Twitter walls. If you are still unaware of Temple Run game, this is one of the most popular games available in iTunes that is compatible to run on iPad, iPhone and iPod Touch.  And late last year, some of the Android users are posting questions and suggestions whenever it is possible asking for the same version to be re-created for the said platform.  Although, Imangi Studios that time already announced and promised that they will be making the same application for Android users – but with indefinite date of launching.  And because of the popularity of the game on iOS devices, many developers have attempt to launch in the wild fake or false version of the game for Android.  Some of these applications were even meant to inject our devices with harmful effects – virus infection on the device.  Imangi Studios warned everybody who longs for this game to avoid those fake applications and wait for their official announcement that will be posted on their Facebook and Twitter accounts.
[note]
UPDATE: AS of 00:40 AM EDT March 27, 2012
Download it now! It's finally out! you can now download Temple Run For Android now. Imangi Studios released Temple Run for Android and it is now available for you to download from Google Play – Link to Temple Run for Android
[/note]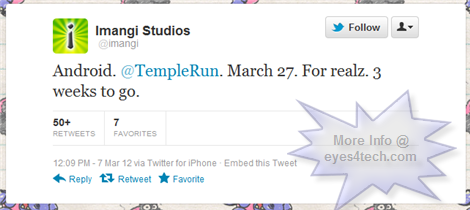 Will Imangi Studios Release Temple Run For Android Today?
Although, speculations from other Android users are now running wild whether Imangi Studios will keep up their promise and release the official Temple Run for Android on the said date – will it be a go or no go? It is because since the announcement, we haven't seen any movements nor further announcement from the company if they will surely release this game on the said date.  Let's wait and see.
So Android users (like me), are you now up to the challenge to test your reflexes as you swipe your way through the ancient walls, avoid falling from sheer cliffs, sliding to avoid obstacles and avoid being caught by those running monster chasing you from behind?  Then I guess it's time for you to download Temple Run for Android as soon as it is released.
I will be updating this post with the download link as soon as we have words from Imangi Studios or Temple Run.  Stay tune.