Earlier this week, I posted an article about SMART launching iPhone 4S handsets and subscription plans across the country today, December 16, and they seemed to be very serious about this project.  Since then until this morning, @SMARTCares had been so busy promoting and tweeting their official launching of iPhone 4S along with the plan details.  And yes, you can actually get your own iPhone 4S 16GB for FREE under SMART Post-paid Plan 2499. The iPhone 4S SMART Plan 2499 comes along with 300 FREE minutes, 300 FREE SMS and a 1GB Free DATA usage – not bad.  I have below the plans offered by SMART for post-paid and pre-paid subscribers just in case you're interested to avail this amazing and latest mobile phone from APPLE which will be powered by SMART Communications.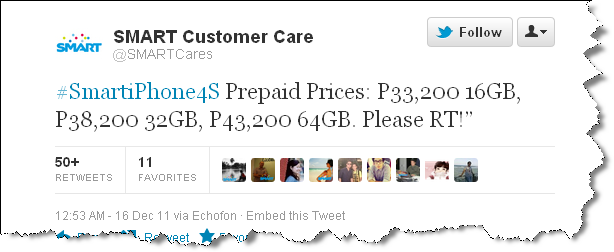 SMART iPhone 4S Post Paid Plan Details:
For pre-paid SMART users, don't be despair because as I have said before you can still  own one if you don't want to be bundled and locked-up with such contract for at least 24 months by cashing the iPhone 4S out.  Here's the price matrix provided by SMART for pre-paid subscribers:
PhP 33,200 for 16GB
 PhP 38,200 for 32GB
 PhP 43,200 for 64GB
From the looks of it, even the prices offered by SMART for pre-paid users are even lower or cheaper as compared with GLOBE Telecom's iPhones. And with all those buzz and hyped stories about iPhone 4S we're all sure that a lot of us Pinoy's are going mob all the SMART mobile stores across the countries and will either cash-out or swipe their credit cards just to make sure that they can get one set.
Still, we all hope that GLOBE Telecom unveils their iPhone 4S price list and plans or packages the soonest or else there's a big possibility that most of the post-paid and pre-paid subscribers will soon move to SMART since iPhone 4S is one of the latest trend in the mobile industry.
Let's all wait and see.