The first official Samsung Galaxy S III Jelly Bean update landed in Poland and now Samsung together with Google and 5 of the most known mobile carriers in the US are working together to roll-out the latest Android operating system across the country. The five mobile carriers that I am pertaining to are Sprint, AT&T, Verizon Wireless, T-Mobile, and US Cellular. Samsung have updated their FAQ Support website in the US and officially stated there that the next Android Jelly Bean update is soon to come.
Here's the list from Samsung US as to when they will be deploying the Android 4.1 Jelly Bean update for Samsung Galaxy S III.  (This table will be updated once the final report comes out.
| US Mobile Carrier | Android 4.1 Jelly Bean Update |
| --- | --- |
| Sprint | Samsung Galaxy S® III (SPH-L710) Coming Soon! |
| AT&T | Samsung Galaxy S® III (SGH-i747) Coming Soon! |
| Verizon Wireless | Samsung Galaxy S® III (SCH-I535) Coming Soon! |
| T-Mobile | Samsung Galaxy S® III (SGH-T999) Coming Soon! |
| U.S. Cellular | Samsung Galaxy S® III (SCH-R530) Coming Soon! |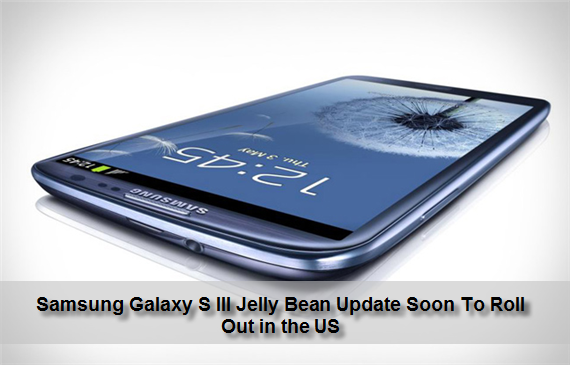 Android Jelly Bean update or Project Butter may have been taking quite slow to land on most of the latest flagship Samsung smartphones considering that leaked ROMS of the Android 4.1 have been out there for quite some time. But at least we're seeing that the company has plans on developing and upgrading these devices – and hopefully it continues not only on the next updates but also on their other smartphones. This is one of the dilemmas of most consumers because most mobile manufacturers don't provide support or upgrades to their old products. Sad but true. And seeing updates like this from the company, Samsung, makes most of us really excited.
One fact is that the Android 4.1 Jelly Bean update is something that most of us would consider as an overhaul of Ice Cream Sandwich but rather an enhancement or simply "upgrade". And these improvements on the latest operating system are really noticeable. One of which is the smoother and responsive user-interface. Another is faster browsing and of course their very own Siri version.
As of the moment, Android 4.1 Jelly Bean upgrade is available for the following devices in the US but it is expected that aside from Samsung Galaxy S III, the company will be upgrading their other devices as well. Among of these devices are Samsung Galaxy S II and Galaxy Note. It is also expected that the Jelly Bean update will be available globally before the end of the year.